Choosing and changing the questionnaire
Moving on to the step of choosing the questionnaire template, it opens SIMPLE 360 template by default.

You can see the other questionnaires' options when you select the "Advanced settings".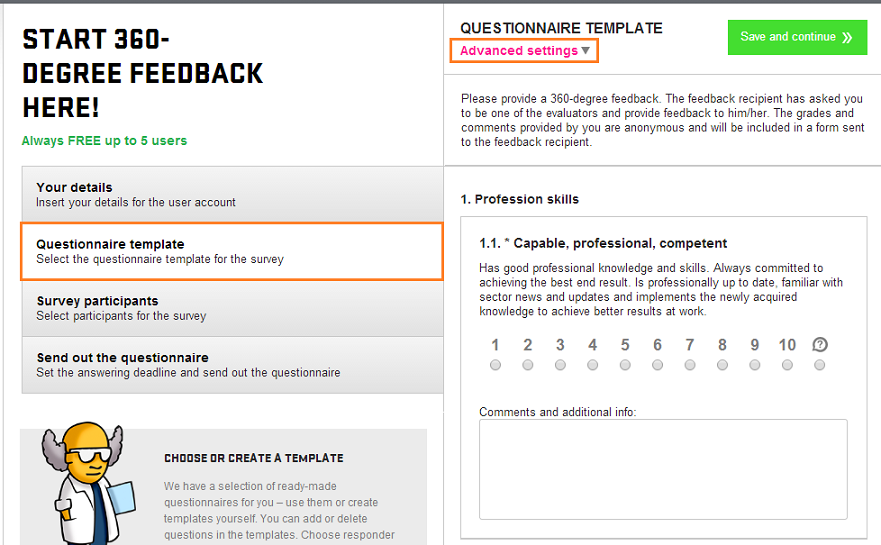 When you select another template from the advanced settings, confirm your selection by pressing the "Choose" button.



Then you will see the selected template and if you want, you can make changes to it by clicking on "Edit".

First of all, you can change the title, delete unnecessary languages (if the questionnaire doesn't have to be in multi-parallel languages) or add a new language of choice.




You can also add your own instructions or comments how to fill out the questionnaire - just click on the pencil sign.




Further, if desired, you can begin to change the questions.

Questions are divided into groups.

To delete a single question, click on the trash bin sign next to the question.

Questions' order can easily be changed. For this, hold down the left mouse button and drag the question to where you would like to see it.




The whole groups of questions can be moved similarly.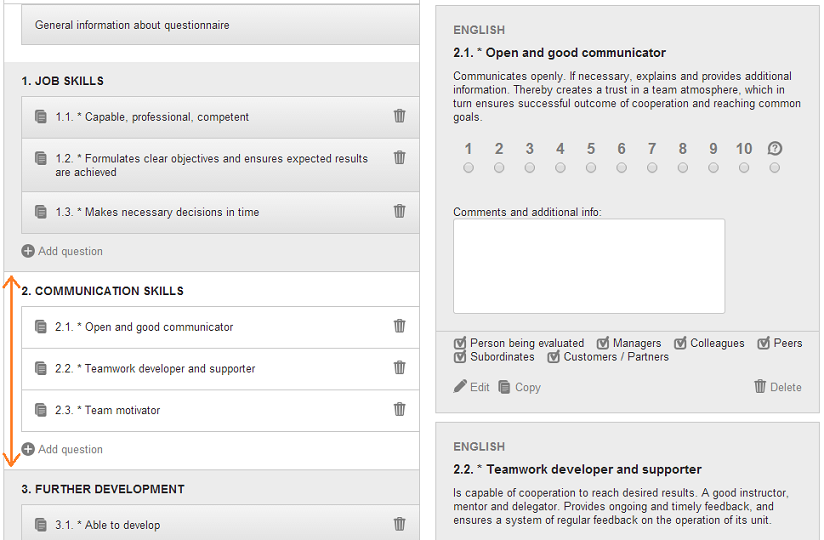 At the end of the group's last question, there is also a button to remove the whole group of questions.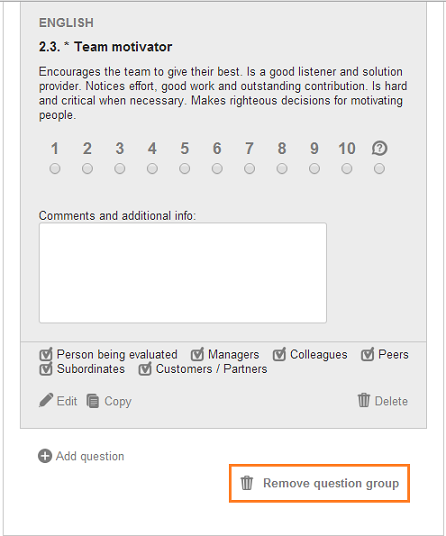 You can edit, copy or delete a single question.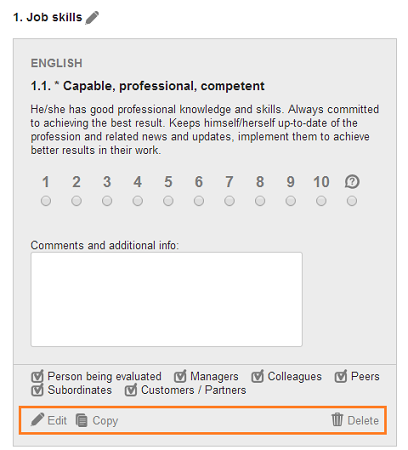 When editing or adding a question, you must first choose the answer type:

Short text
Long text
Scale
One choice (it is possible to choose 1 answer from the given list)
Multiple choices 

(it is possible to choose multiple answers from the given list)

Priority list (you have to reorder the given list in order of importance)
You can allow comments and comments can be voluntary or mandatory. 

Lisaks saad määrata, kas küsimusele vastavad kõik osalejad või on see mõeldud vastamiseks vaid konkreetsele grupile.
In addition, you can specify whether 

all of the participants should answer to

 the question or is it meant only for a specific group (for example only for the managers).





When you have finished editing the template, you can look it over by clicking the "Preview" button. If everything is as you want, press the "Back" button.





Then click "Save and continue" to go to the next step and send out the questionnaire.