The user's Home page is divided into right and left panes and a top action bar. 
The left pane is where the user's messages, calendar, files, projects and feedback are stored. 
The right pane is used to display additional information. Data is generally entered and modified through the left pane. 
The top action bar has selections that allow users to navigate back to the home page (Upsteem.com logo and "HOME" button), a search bar and notification bars.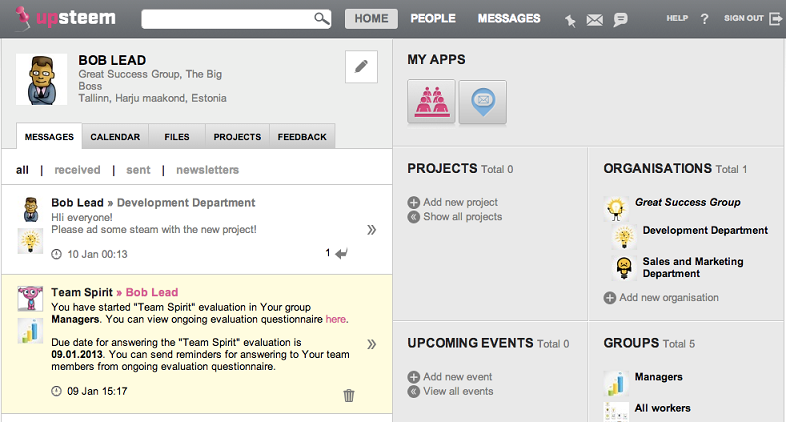 Go ahead and click on the messages or lists – you'll see how they open in the right pane. You can also reply to the messages in the same area.

The top action bar has three menus – Home, People and Messages. 
Home button will always take you back to the home page.
The People view shows you all of your professional contacts. Use this tab to search for people's profiles and to message them. 
The Messages tab shows you the messages you have sent directly to other users. If you have sent messages to groups (projects, groups or structural units), these will not be displayed here.




Instant message notifications tell you that you have received new messages:
Thumbtack icon indicates that you have messages requesting action on your part – Active messages. For instance, requests asking you to fill in a new questionnaire or inviting you to join a new project.
Envelope icon shows that you have received a direct message from some other user. It is likely a message from your boss or a colleague.
Dialogue bubble icon indicates you have received a message from one of your work-related groups or projects.